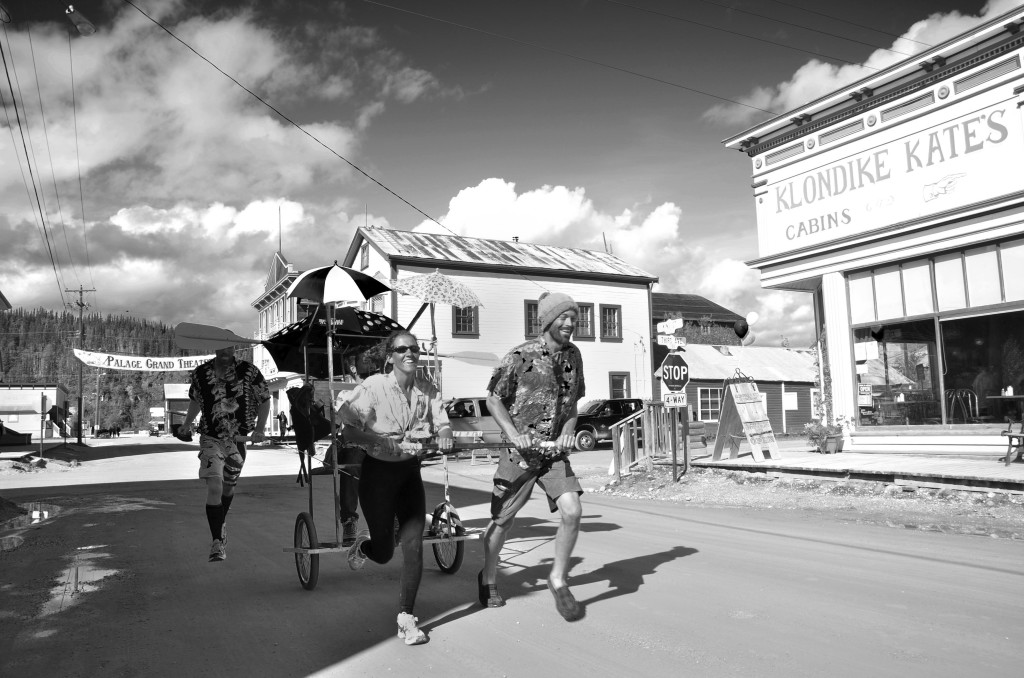 Story by Alyssa Friesen
Photo by Evan Rensch
Beginning at Diamond Tooth Gerties at 2 p.m. on September 3, six teams of five competed in 34th Annual Great Klondike International Outhouse Race. On a course smeared with challenges—for example, grabbing fortune cookies from The Midnight Sun—the teams ran, pushing decorated outhouses on wheels up Queen Street, taking a left on Second to King, and then down Third,  back to Gerties to the toilet paper finish line.
The last team, "Mr. Hankey", crossed the finish line carrying one of their members clad as the South Park character in a stuffed brown nylon suit and a Santa hat. (Their outhouse was stolen from outside Klondike Kates by "Last Minute Poo-lution" and steered to a halt behind the finish line while the members of Mr. Hankey downed a pint inside the restaurant.)
Judges for the event, dressed in white hooded suits and white masks, and calling themselves the "Workers Constipation Board Inspectors", were Dina Grenon, Helen Bowie and Karina Watson.
"It's an honour position and the pressure is on," said Grenon, pen, paper and clipboard ready, observing the race from behind a folding table set up in front of Gerties. "We have to be at that level," she added with a straight face, stressing the emphasis of their costume choice.
Once all the teams had crossed the finish, the final challenge—blowing four Kings off a table of cards—was completed inside Gerties.
Winners of the $150 prize for the Fastest Team was "Dumped at the Altar", with one team member appropriately outfitted in a white dress and veil, in 13 minutes and 54 seconds.
A special prize—the judges' pens with plastic turds on the end—was given out to "Last Minute Poo-lution", finishing the race in 36 minutes and 41 seconds. (Though, to rounds of cheering they were handed a series of penalties which brought their total time to 44 minutes and 41 seconds: two minutes for "being shit disturbers", one minute for "stripping on stage" and five minutes for "stealing somebody else's outhouse".)
And the winners of the Best Overall title, awarded with a toilet seat medal—a white kiddie toilet seat slung on a sliver chain and intact with a toilet paper hanger—and $150 was "Lumberjacks and a Jill", wearing suspenders and plaid shirts, from Dawson and Whitehorse.
The grand prize was awarded under the condition Lumberjacks and a Jill would clean up the pieces plastic poo they had deposited throughout the course.
Another special prize—a pair of notebooks—for last minute entry went to the "Potty Poopers", outfitted in Hawaiian shirts (one with a watermelon-sized hole the bottom of her black leggings and a full view of her blue-striped underwear), from Utah.
This year was a first for brown-onzie clad Jenn Touchie from Last Minute Poo-lution.
Decorated in paraphernalia of a toilet-paper crunch, Last Minute Poo-lution's outhouse was covered in moss, dirty socks and branches, reflecting the teams' solutions (and experiences) using "whatever is in reach."
"It was awesome!" laughed Touchie. "I was really psyched. I just woke up in the morning and [the other team members] invited me."
One of her belligerent team members added he felt the race was "very sophisticated."
-30-