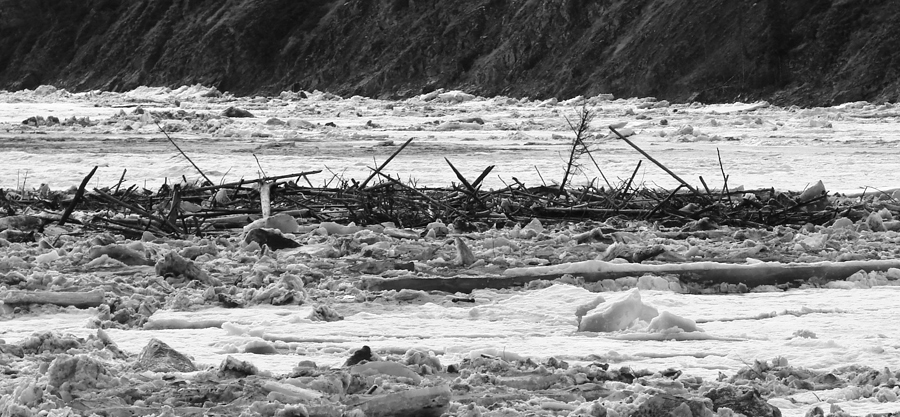 By Dan Davidson
The ice began flowing in the Yukon River in front of Dawson at 4:21 on Saturday afternoon (May 7). Within minutes someone had raced to the fire department to sound the alarm and let the town know what was happening and by 4:30 a considerable crowd had gathered on the waterfront to watch the action.
The crowd included the delegates to the Tourism Industry Association of Yukon, who tabled the important matter of electing a new board to go spend half an hour watching the river flow.
The IODE's official time keeper, Joyce Caley, reports that the cable attached to the wooden tripod in the river tripped the clock mounted on the Dänojà Zho Cultural Centre at 4:21. This year IODE members sold $6,526 worth of ice pool tickets. Half of the take goes to support the organization's charitable works, while the other half goes to the person who picked the time closest to the time on the clock.
This year it was a split win, with two people picking 4:20, one minute from the actual time. Locals Doris Roberts and Marc Richard will share the $3263 prize. Caley said the IODE would probably bump it up a dollar to make it divide evenly.
River watchers have been expecting the ice to move any time during the last week. The ice next to the east bank had either been gone or had sunk beneath the overflow for that long, leaving a 15 metre gap of open water between the shore and the ice in some places. People had been crossing the remaining ice while pushing canoes so they could paddle across the gap.
Marc Johnson managed to move the Yukon Rose out of the way of the slowly rising river during the later part of the week.
The Klondike River had flushed earlier in the week, leaving jumbled ice upstream, but a lot of that seemed to be kept from moving by the gravel bars and the generally low water levels in the river.

The tripod itself as located closer to the east bank that usual this year, and the ice had eroded from under part of one of its legs, leading some to speculate that it might just fall in the water rather than float away. In the end, however, most of it was well frozen into the remaining ice, and it was still upright as it sailed out of sight on the way to Moosehide.